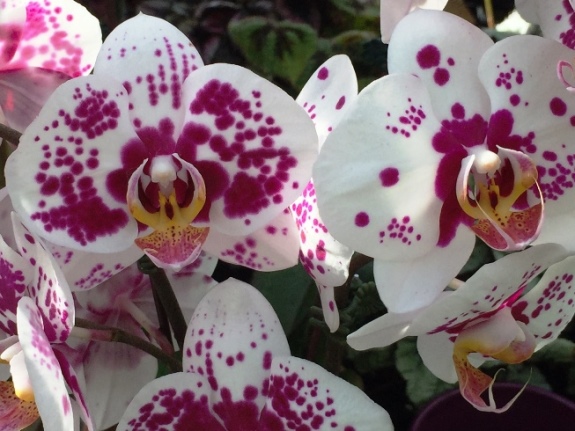 Woodland Gardens is open year-round, so every day of the year you can come in to visit our greenhouse devoted to indoor plants. There's nothing quite like being surrounded by lush plants, especially on a dreary day. We have lots of unusual plants and love teaching our visitors about them.
We have all the classics, such as begonias, African violets, pothos, philodendron, pepperomia, asparagus fern, wandering Jew, sansevieria, Swedish ivy, English ivy, and lots, lots more.
We can help you find easy-to-grow plants, ones that thrive on neglect, and we can help you find plants that want your tender loving care.
We carry a wide variety of tropical plants - citrus, orchids, palms, succulents, cacti, and more. Our selection changes constantly, making it always exciting to visit the greenhouse. We also have plants well suited to a terrarium.
We also have supplies, such as pots, potting soil, fertilizers, and insect spray to help you take care of your plants.
Woodland Gardens Tips about Houseplants including:
A list of easy-care indoor plants
How to water plants
How to repot houseplants
"Safe and Poisonous Houseplants"
Click here for article from UConn Extension Center
Extending the Life of Holiday Plants (Poinsettia, Cyclamen, etc.)
How to Force Paperwhite Narcissus Bulbs